"This Step-By-Step Guide Can Help You Get Pregnant Without Drugs, Surgery or Expensive Procedures...With A Proven System You Can Do At Home."
Instantly available as a digital e-Book. Get your digital book and special bonuses now, and begin maximizing your fertility today –here's more…



Yes! This book can help you improve your fertility naturally, even if you experience:
Irregular Menstrual Cycles

Unexplained Infertility

Secondary Infertility

Irregular Ovulation

An-ovulation (not ovulating)

Poor Quality Eggs

Secondary Infertility

Poor Quality Sperm

Fertile Cervical Mucus Problems

Ovulating Too Late In Your Cycle

Polycystic Ovarian Syndrome (PCOS)

Over 35 and Trying To Conceive

And That Is Just the Start Of It!
"Definitely Helped Me Get Pregnant"
>> Click here to read more customer testimonials >> (link opens in a new browser window)
The Whole Body Fertility Program Is Guaranteed To Help You:
Improve your fertility levels to get pregnant faster than you thought possible

Quickly overcome self-doubt, anxiety & frustrations that undermine your ability to get pregnant

Overcome unexplained infertility, secondary infertility, PCOS and other imbalances

Optimize your mental-physical-emotional well being to achieve peak fertility
7 Reasons Why You Need This Book
Discover exactly what steps to take to improve your fertility (for a fraction of the cost of one visit to your doctor)

Improve your chances of getting pregnant by 300% when you balance your mental, emotional and physical well-being

Everything you read about in the book is easy to follow — you can do it all from the comfort of your own home

Applying these techniques and you start to feel better within weeks– feeling better moves your mind-body balance toward optimal fertility

You can use this information over and over again — for this (and for your next) pregnancy

This information would literally cost you $1,000's  to get from John in his clinical practice — you can get it here for an incredibly low price

Your purchase comes with a 60 day money-back guarantee — so this truly is a risk free offer

How Do You Download Your eBook to Get Instant Access? Watch This Video:

(Running time: 4 minutes 45 seconds)



"Must-Know" Information You Will Find Inside the Book (A Sampling)
An Introduction into Energetic Medicine in Chapter 4

Comparing and Contrasting Eastern and Western Medicine and Fertility Treatments in Module One

Preparing the "Fertile Mind" in Module Two

Five Fertility Stumbling Blocks You Need To Avoid and Overcome in Chapter 7

Avoid this "Silent Fertility Killer" on pages 45 to 51

Preparing the "Fertile Body" in Module Three

Pregnancy and Advanced Maternal Age in Chapter 10

Internal Cleansing for Optimal Fertility (Required Reading) pages 66 to 72

Specific Relaxation and Breathing Techniques To Boost Fertility pages 78-97

Fertility Acupressure You Can Do At Home (illustrated) in Chapter 16

The Moon and Your Hidden Fertility Levels in Chapter 19

Understanding Basal Body Temperature Charting in Chapter 20

Simple Yoga Technique for Relaxation and Fertility on page 118

Men's Fertility Guide in Chapter 23

Four Fertility Phases You Need To Master in Module Four

Identifying Peak Fertility Signs (very important) in Chapter 27

Fertility Health Assessment in Chapter 29

Discover Your Fertility "Archetype" & Design Your Own Fertility Action Plan on pages 189-217

Summary of Artificial Reproductive Techniques To Consider (ART's) on page 218

Clinical Case Studies Tracking Natural Fertility Successes (Six Total) Throughout the Book

Lunar Charts for Tracking Fertility — Bonus Item

Basal Body Temperature Charts (BBT) — Bonus Item

Special Bonus Reports & Bonus Items Frankly, this book is full of information you can't afford to be without.
Click here to read more testimonials (opens in a new browser window)
Your "Turn-Key" System To Improving Your Fertility & Well-being

Save hundred of hours of research, false-starts and expense by following what I present to you in this book

Avoid costly mistakes that many people make (mentally and physically) that can make getting pregnant more difficult

Overcome self-doubt, defeating ideas about not getting pregnant, and finally move your whole body toward peak fertility
Easy To Read. No Fancy Medical Terms. No Confusing Jargon.
You don't need something that is confusing to read and difficult to follow do you? I didn't think so, either. Which is why this book is easy to read, easy to follow and free from confusing medical jargon. This is something you can read without straining your brain — and here's why:

Improving your fertility does not need to be complicated

Simple instructions make this book easy for you to use

Because the book is easy for you to use, you will be more interested in applying what you read

Applying what you read can help you optimize your fertility, and improve your chances of getting pregnant
Here's Exactly What You Will Get When You Buy The Book
You get instant access to the complete Whole Body Fertility eBook (236 pages)

You get sample and blank Basal Body Temperature Charts for your personal use

You get Full Moon Charts by month to coordinate your fertility cycle to the lunar cycle…as explained in Chapter 19

You get 4 Special Bonus Reports valued at over $123.00 USD

A 60 day money back guarantee

Instant access to all materials

All products are digital products that you can download immediately to your computer after your purchase.
You'll Also Receive Over $123.00 In Additional Bonuses When You Buy The Book Today
Premium Bonus #1:
SPECIAL REPORT — Medications & Cautions: Everyday Drugs That Affect Fertility
Discover which prescription and over-the-counter (OTC) drugs may be contributing to your fertility problems.
This special report names names, and gives you a list of drugs to avoid or use cautiously when trying to conceive.
In fact, if you are taking any of these prescribed medications, you may wish to ask your doctor for alternatives.
Suggested Retail Value: $19.97 — yours free as a Premium Bonus.

Premium Bonus #2:
Special Report — You Are What You Eat: Foods to Limit, Foods to Avoid.
This special report picks up where the "7 Dietary Secrets" report leaves off. You'll discover foods that can improve fertility as well as foods that are best avoided when trying to conceive. This report is an eye-opener for many people, and is sure to help you find at least two dietary changes you can make today that will help your fertility (and chances of conceiving) move to the next level.
Suggested Retail Value: $19.97 — yours free as a Premium Bonus.
Premium Bonus #3:
Special Report — Chemical & Environmental Hazards: Everyday Chemicals That Can Affect Fertility.
Once you connect the dots between environmental and chemical hazards that you encounter everyday, you will be able to eliminate many of the common toxins that make getting pregnant difficult. This are chemicals found in most shampoos, soaps, plastic water bottles, and some of the foods you likely are buying each week. You will like the simple tips found in this valuable report.
Suggested Retail Value: $24.97 — yours free as a Premium Bonus.
Premium Bonus #4:
Special Report — Essential Supplements: Building Blocks for Peak Fertility.
This reports covers critical nutritional supplements that help your body combat modern toxins, provide core nutrients and healthy fats your body needs for peak fertility, and shows you exactly what to look for when selecting your nutritional supplements. When you are trying to conceive, it is the best time for both men and women to support core nutritional needs for you, and your baby-to-be.
This reports covers supplements that are helpful for both women and men.
Suggested Retail Value: $27.97

Plus You Get These Bonus Worksheets & Charts
I. Four Basal Body Temperature (BBT) Charts — Valued At $19.97.
Each chart will be available for download, after your purchase.
Track your Basal Body Temperature with ease. No more "guess-work" or frustrating data.
These charts make it clear to see when you are ovulating, and when you are not.
Blank BBT chart — print it out, photo copy it, and use it to track your daily BBT.

Blank BBT extension chart — if your cycle runs longer than 35 days, continue tracking your BBT using this chart extension.

Sample 28 day chart — shows what a typical charting month might look like for you. These are the basic elements you want to see in you BBT patterns, no matter what length your cycle is now.

Triphasic chart — this chart shows a pattern typically seen when you conceive. Look for three distinct phases in this recognizable pattern.

II. Fertility Action Plans — Valued At $9.97.
These forms can help you design a "fertility action plan" using information from the Whole Body Fertility book.
Customizing your path to getting pregnant can greatly increase your success.
Why use a "one-size-fits-all" approach, when you can design a plan for your needs and your lifestyle.
1. Blank Fertility Action Plan: Fill this in as you go along. Make copies as needed.

2. Sample Fertility Action Plan: A sample form filled in to show you how your form "might" look, too.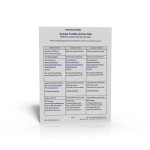 III. Health Intake and Fertility Assessment Form — Valued At $9.97
Find out which areas of your mental-emotional and physical health need balancing.
Then find out what you need to do to balance those areas as shown to you in the book.
This is similar to the intake used with John Miley's fertility patients.
This is something you won't see in your doctor's office.
P.S. Using this chart will help you design your own customized fertility action plan in conjunction with the Whole Body Fertility book.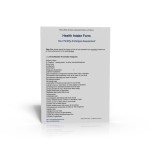 IV. Moon Cycle Chart — Valued At $9.97
Use this with your Lunaception technique as mentioned in the Whole Body Fertility book.
This helps you time your peak fertility to the naturally fertile cycle of the full moon.
Imagine knowing exactly when you are ovulating based on the phase of the moon!
You'll love reading about this.
You Are Backed By My Personal 60 Day  "Love-It-Or-Leave-It" Guarantee
Here it is in plain language — if you don't absolutely love the Whole Body Fertility book, charts, bonuses and special reports then you have 60 days to return it for a full refund.
You even get to keep all the materials (eBook and bonuses) after your return, as my special gift, just for giving my program a fair try.

Why I would possibly offer such a generous guarantee?



The answer is simple: I know my program can help you if you are trying to get pregnant, and I want you to try it out for yourself.
Just email me using the contact form, and I'll see to it that you promptly get all your money back. Now how's that for a fair deal?

Here's What You Need To Do Next
Buy the book today and download it right now

Take the next day to scan through it (if you don't like it, return it)

Or better yet, test it out, try it, read and put it to work for you over the next 5- 6 weeks

If you don't love the book, return it within 60 days to get an immediate refund

There's no reason for you not to try it.
Don't Wait Too Long…
The book and bonuses are currently priced at an introductory rate, and they are priced at an affordable rate on purpose. Grab them while you can because the prices will likely increase steadily over time.

The longer you wait to get started on improving your fertility, the harder it can become for you to balance your body.
If you can catch imbalances when they are small, they are easier to correct — which can be like the difference between blowing out a match, versus trying to blow out the flames from a campfire started with that same match.
Your Actions Determine Your Future, So Take Action Today



It's up to you now — I can't take the next step for you.
I can however, guarantee you that you will find eye-opening information in this book (and special reports) that can better prepare you for getting pregnant.
You are also backed by a risk-free guarantee, and will receive a tremendous amount of value for this simple one time investment. Now it's your choice.
Do you want to improve your chances of getting pregnant with a step-by-step approach that takes you closer to your goal…or do you want to stay where you are, doing what you have been doing? Be bold. Grab the book right now and get started. Here's your chance to go for it.

P.S. Invest in yourself! Every 10,000 mile journey begins with a single step. I've helped clear a wide path for you and all you have to do is take that first step today. I'll be waiting for you on the trail.